Welcome back one and all to the most wonderfulest series on the planet!
News
2004 was, as is rarely the case, a largely drama-free season in spite of the seismic line-up changes that occurred over the summer break. The silly season news for the next two years occurred largely in advance, meaning that the outgoing world champion Waluigi has planted himself at a very determined and overstretched SSL until the end of 2006. With teams going back to two karts, and SSL reportedly having hired up to eight or nine different drivers, it will be quite the bloodbath to see who gets the second seat at the team. Rumours have even abounded that Daisy and Luigi intend to either independently or co-operatively set up a junior team for their children and other prospective entrants for the main SSL team.
Toad took a brilliant championship after a late-season surge, even beating the upset candidate in Bowser Jr. However, Bowser Jr. has been training hard over the winter, and has a whole decade age advantage over the two-time champion. BMW has not declared any seats yet, although it seems inevitable that their top two drivers from 2004 will retain those seats.
That leaves others like Mario and DK out on the lurch. The former has announced intentions to re-form Scuderia Mario under the new name Project Mario, while DK's career is in turmoil as he attempts to prove himself as a leading driver. Perhaps a chance might come at DPRK? At teams such as Funky and Peach's, there comes difficulty when four chosen drivers must become two. Of the equally tested Conker and Banjo, which if either will keep their place? And what of the much-vaunted Para Troopa? Will he be keen to stay in place or will he want to move?
Koopra Sport remains as quiet as ever, although further rumours suggest that Morton Koopa Jr. is not happy with the slowdown in pace for the team, and their inability to produce "a winner" as he calls it. Other drivers such as Dribble & Spitz will be very hot commodities in the search for drivers this year.
At Mitsuyoshi, second place was a solid result but not good enough. Redsaurus has been pulling his hair out over the loss in pace found both by Dixie Kong and by Yoshi - even if both drivers were able to take victories last season. Mitsuyoshi seems the most obvious place for an enterprising driver to end up and reap the spoils of 2005.
KBM is now in a situation whereby their team owner is now head of the MKDA after a very contentious election. While things have calmed down, the long-term effects of this new governance have yet to be felt in the paddock. New rule changes are likely to come into force soon...
And what of the new teams? Mario and Birdo are all but certain to be entering their own vanity projects, while SSL's potential junior team will be fighting against Iggy Koopa and Toadsworth for a place on the grid. The MIA has announced its intentions to have a 20 kart grid at the maximum for now. Let's see who's in and who's out.
New Rules
The MIA has mandated that teams go back to two karts and two drivers, now that the after-effects of DKR's collapse have worn off.
There is a current cap of 20 karts on the grid for 2005, so 10 teams will be allowed to participate (if they pass the vetting).
Yoshihama will be brought back to Mario Kart to instill a tyre war.
The Grid
Red Bowser Racing
Team Principal: Donkey Kong Jr. (Hermann95)
#1 Toad Toadstool
#2 Bowser Jr.
Mitsuyoshi Buntai
Team Principal: Redsaurus R. Bitakoopas (Javi/Frentzen)
#3 Dixie Kong
#4 Wario Jumpman
Scuderia Sarasaland Squadron Luigier Team
Team Principals: Luigi Mario and Daisy von Sarasaland (TCBY and Pinkd)
#5 Waluigi
#6 Luigi Mario
Donkey-Peach Racing Kongection
Team Principal: Peach Toadstool (NessaFox)
Technical Director (day-to-day): Funky Kong (Ducktanian)
#7 Peach Toadstool
#8 Banjo-Kazooie
Koopra Sport
Team Principal: Koopa Troopa (DigitDan)
#9 Kokkoro Toudou
#10 Pipsy Astromouse
King Boo Motorsports
Team Principal: King Boo (NickyDustyOwl)
#11 Para Karry
#12 Petey Piranha
Project Mario
Team Principal: Mario Mario (Frogfoot9013)
#14 Mario Mario
#15 Para Troopa
Birdette Racing
Team Principal: Birdetta Birdo (Novitopoli)
#16 Birdetta Birdo
#17 Nicolas Hammerton
Koopra Kids
Team Principal: Iggy Koopa (Pinguini)
#18 Iggy Koopa
#19 Conker T. Squirrel
ToadGate
Team Principal: Toadsworth (Aislabie)
#20 Dribble & Spitz
#21 Toadsworth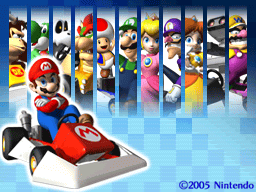 The Calendar
Mushroom Cup
1. Figure-Eight Circuit [
Mushroom Kingdom
]
2. Yoshi Falls [
Yoshi's Island
]
3. Cheep Cheep Beach [
Koopa Kingdom
]
4. Luigi's Mansion [
Mushroom Kingdom
]
Flower Cup
5. Desert Hills [
Yoshi's Island
]
6. Delfino Square [
Isle Delfino
]
7. Waluigi Pinball [
Mushroom Kingdom
]
8. Shroom Ridge [
Mushroom Kingdom
]
Star Cup
9. DK Pass [
Donkey Kong Country
]
10. Tick-Tock Clock [
Mushroom Kingdom
]
11. Mario Circuit [
Mushroom Kingdom
]
12. Airship Fortress [
Koopa Kingdom
]
Special Cup
13. Wario Stadium [
Wario Land
]
14. Peach Gardens [
Mushroom Kingdom
]
15. Bowser's Castle [
Koopa Kingdom
]
16. Rainbow Road [
Space
]
Phase 1 (1992-1995) records
Phase 2 (1996-2002) records
Phase 3 (current) records