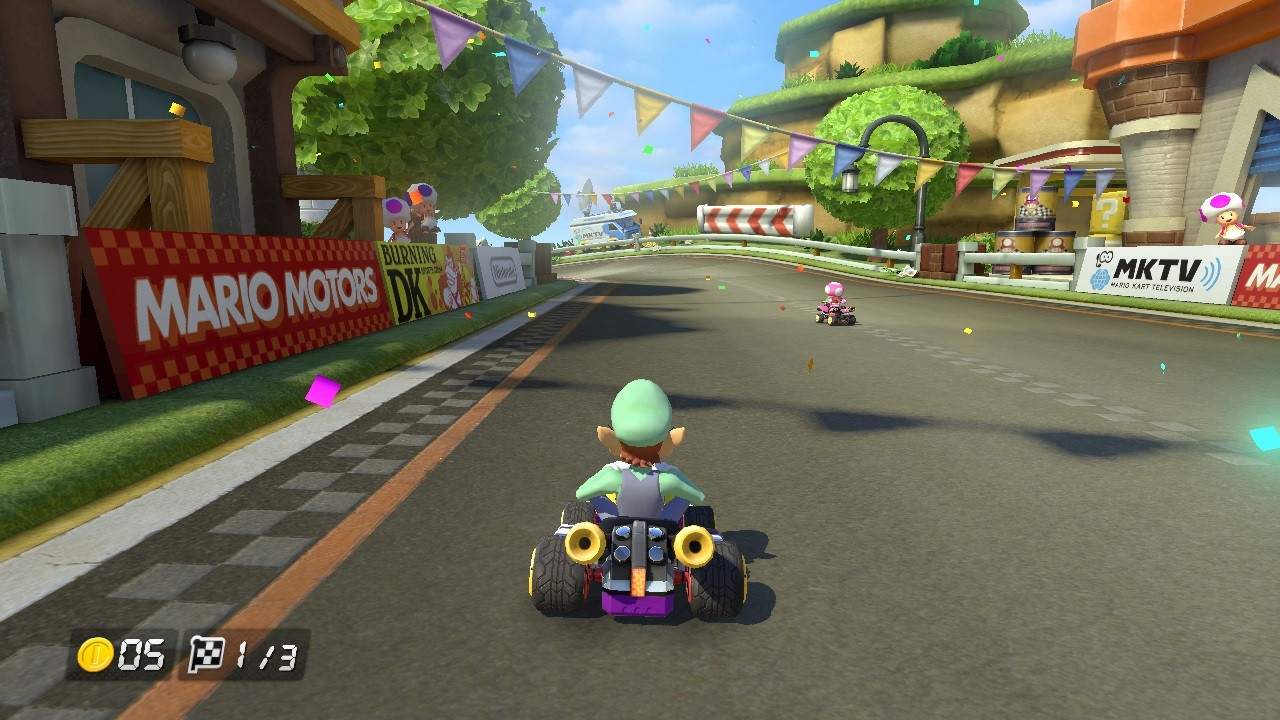 Rare photo of defending champion Waluigi in his BMW colours.
News
Welcome one and all, back to the wide and wonderful world of Mario Kart racing for 2004. We are all geared up for the thirteenth season of Marioverse racing, and this thread will keep us all up to date based on the past, present, and future of all the drivers and teams taking part in the upcoming season.
At
Bowser Motor Works
,
Bowser Koopa Sr.
is celebrating his first constructors' championship since 1998, and in his contract he has two world champions:
Waluigi
and
Toad
are both signed up for the new season, either together or separately, as the Koopa king decides. This team, without too much in the way of rule shake-ups, are the favourites to sweep both titles this coming year.
Koopra Sport
had a comeback season in 2003, with a debutant and an unproven driver (
Dribble-Spitz
and
Koopa Kolorado
respectively) showing up most of the field with excellent qualifying performances and mostly sensible race stints. They had a great line-up, but there will be competition for just about all of their drivers as they prepare for a season as potential new champions. Team runner
Koopa Troopa
will have a lot on his hands to defeat the other koopa team.
The
DPRK
super-team were the talk of the town in 2003, and everyone wanted to be seen with them and drive for them. Although their second kart left something to be desired, team principal and lead driver
Peach Toadstool
was the most popular driver of the year, and showed that championship runs are possible even in one's later years.
Funky Kong
is currently running the day-to-day operations and will be desperate to get a stronger team around Peach for the new year if they do want to beat the BMW behemoth.
Mitsuyoshi Buntai
were lacklustre and could not make their way around the new rules, even with the dual comeback of
Redsaurus
and formerly dead
Yoshisaur
. Their second kart, with twice champion
Dixie Kong
and
Pipsy Astromouse
, occasionally punched above its weight, but with those drivers both involved in heavy crashes last year, who will Redsaurus turn to for his star line-up now?
SSL
had just about the biggest nightmare possible, coming smack-bang down to earth after many seasons of good performances and championship victories. They too found their star drivers in hospital, and they too have a serious problem of finding talented drivers to attempt to turn around their fortunes in 2004.
Daisy von Sarasaland
cannot hold the team up on her own, no matter how much she tries.
WWR
were the only team worse than SSL, though they were at least more consistent in their mediocrity.
Wario Jumpman
, while a popular figure, has faced hard questions from the media about his suitability to be in the kart, after such a mediocre performance in 2003. The question is, as it is for so many others, just who will take up the mantle in his absence?
New Rules
Points will no longer be dished out the same way as they were in 2003. In an effort to stop a situation such as that allowed Waluigi to win the title by default of having been slightly healthier than Toad Toadstool on account of the latter missing a race out of his own accord. From now on, points will be primarily awarded to lead drivers, with co-drier points appearing on top as in brackets, that are only counted in the case of a tie-breaker. This means that lead driving is emphasised over co-driving, and should be a more meritocratic system in practice.
Otherwise, no new rules have been announced for the upcoming season. However, that is not to say that none will come. There are continued discussions between the MIA and MKDA regarding any potential reaction to the injuries sustained by so many drivers in 2003. A total of four different drivers found themselves in hospital, including 1992 champion Luigi Mario and 1999-2000 champion Dixie Kong. While Dixie appears to be able to make the start of the 2004 season in time, one wonders if action will be taken regarding the safety of the sport, especially as we approach the tenth anniversary of Donkey Kong Jr.'s fateful crash.
The Grid
Bowser Motor Works
Team Principal: Bowser Koopa (
Hermann95
)
Notes:
#1 Waluigi / Toad Toadstool
#2 Bowser Koopa Jr. / Donkey Kong III
Koopra Sport
Team Principal: Koopa Troopa (
DigitDan
)
#3 Kokkoro Toudou / Morton Koopa Jr.
#4 Koopa Kolorado / Dribble-Spitz
Donkey-Peach Racing Kongection (commonly abbreviated to DPRK)
Team Principal:
Peach Toadstool
(NessaFox)
Technical Director (day-to-day):
Funky Kong
(Ducktanian)
#5 Peach Toadstool / Conker T. Squirrel
#6
Mitsuyoshi Buntai
Team Principal: Redsaurus R. Bitakoopas (
Javi/Frentzen
)
#7 Dixie Kong /
#8 Redsaurus / Yoshi
Scuderia Sarasaland Squadron Luigier Team (commonly abbreviated to SSL)
Team Principals: Luigi Mario and Daisy von Sarasaland (
TCBY
and
Pinkd
)
#9 Daisy von Sarasaland / Luigi von Sarasaland
#10
Wario Ware Racing (commonly abbreviated to WWR)
Team Principal: Wario Jumpman (
Dom
)
#11 Toadsworth / Mark Wiggler
#12
The Calendar
Mushroom Cup
1. Luigi Circuit [
Mushroom Kingdom
]
2. Peach Beach [
Isle Delfino
]
3. Baby Park [
Mushroom Kingdom
]
4. Dry Dry Desert [
Yoshi's Island
]
Flower Cup
5. Mushroom Bridge [
Mushroom Kingdom
]
6. Mario Circuit [
Mushroom Kingdom
]
7. Daisy Cruiser [
Kingdom of Sarasaland
]
8. Waluigi Stadium [
Mushroom Kingdom
]
Star Cup
9. Sherbet Land [
Yoshi's Island
]
10. Mushroom City [
Mushroom Kingdom
]
11. Yoshi Circuit [
Yoshi's Island
]
12. DK Mountain [
Donkey Kong Country
]
Special Cup
13. Wario Colosseum [
Mushroom Kingdom
]
14. Dino Dino Jungle [
Yoshi's Island
]
15. Bowser's Castle [
Koopa Kingdom
]
16. Rainbow Road [
Space
]
Phase 1 (1992-1995) records
Phase 2 (1996-2002) records
Phase 3 (current) records